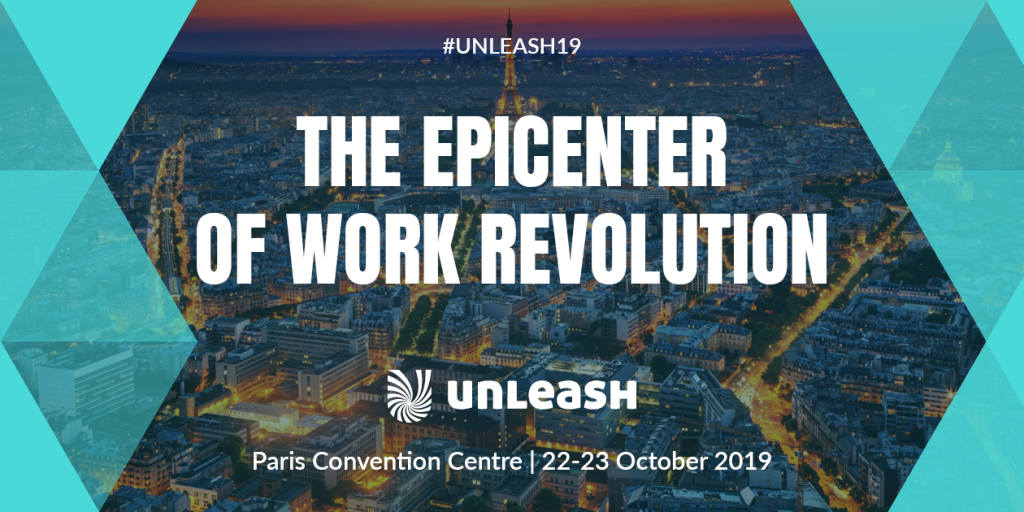 What's next for employee engagement?
Research shows ¹, time and again, a clear link between employee engagement and increased business performance (including increased customer satisfaction). Employee engagement can unlock productivity and transform the workplace for its people.
Traditionally, the annual employee engagement survey has been the staple go-to tool for understanding how happy employees are in their job. But it's no longer enough.
The new world of work
The HR profession is experiencing disruption and transformation like never before. Well-known commentators and industry experts, like Josh Bersin and David Green, regularly shine a light on the new world of work, its impact and predictions for the future. It's also why decision makers, visionaries, influencers and disruptors from over 120 countries come together every year at UNLEASH World.
As part of the alumni of successful start-ups (we were a finalist at the 2017 HR Tech World, rebranded UNLEASH that same year), we're looking forward to this year's show, 22-23 October in Paris. And we're on a mission: to help organisations understand how to move from employee feedback to action, fast. It's what Bersin refers to as 'employee engagement 3.0′ (see below).


Is the traditional employee engagement survey dead?
We think so. HR managers and employees often tell us that they feel frustrated that nothing much seems to change following their employee engagement survey. We believe there is a fundamental reason for this: traditional surveys are too slow.
Firstly, the employee engagement survey may tell you what your people are thinking, but not why so it's difficult to take action. Weeks, sometimes months of follow-up meetings and focus groups (which aren't inclusive) are required to fully understand employees' responses. The lag between the initial survey and uncovering actionable insights is too long and creates space for frustration and cynicism to set in. In turn, it can lead to lack of trust in leadership, and reduces employee participation in future surveys.
Second, once you've dug deeper to better understand the root-cause of any issues or concerns raised by employees, how do you take action? For example, managers have a critical role in making behavioural change happen. But how well engaged are they? Do they have the knowledge, skills and support to take action and make meaningful change happen?
Next-generation engagement surveys, like Peachy Mondays, are the way forward. We help organisations around the world to engage deeper with their employees than ever before, and in real-time.
Features like our unique Targeted Anonymous Dialogue™ and manager dashboards with embedded coaching hints and tips are equipping HR leaders with the tools and insights they need to move from feedback to action, fast.
We'll be discussing this, and other HR challenges, at UNLEASH this autumn, including: driving transformation; employee engagement; diversity and inclusion; and reputational risk (something that C-suite execs and board directors believe poses the greatest strategic threat to businesses ² ).
As the world's largest show on the Future of Work and Workforce Technology, UNLEASH World is a must-attend for HR practitioners. We're excited to be there again this year.
If you can't make the show, please register to join our 20-minute webcast on Monday 21 October. It's part of HR.com's Global HR Tech Virtual Symposium, a month-long virtual event featuring different themes each week. It's your chance to connect with other HR professionals and to find out more about the Peachy Mondays platform. Follow us on Twitter or LinkedIn for more information about the webcast nearer the time.
UNLEASH World takes place at the Paris Convention Centre, 22-23 October 2019. You can find us in the Startup Zone, stand B05 – hope to see you there.
---
¹ Like the 2009 MacLeod report Engaging for Success
²Article from February 2019, ReputationManagement.com