We help organizations go from feedback to action in real time, so they're more people-centric, more agile and positive change can happen fast.
Employee Engagement
Change & Transformation
Diversity & Inclusion
Reputational Risk Mitigation
Employee Lifecycle, On / Offboarding
One platform for Integrated Insights across all feedback sources
Validated best practice question sets
Responsive and Accessible
Multiple Languages
HRIS / HCM Integration
Automated Analyses
Support for Multiple Hierarchies and Matrix Organizations
Manager Dashboards
Real-time root cause analysis
Targeted Anonymous Dialogue™
Automated Drivers Analysis
Real-time Results
Theme and Sentiment Analysis
Comprehensive User Access Controls
James Anderson
Co-Founder
"Peachy Mondays combine a best-of-breed enterprise-scale employee feedback platform, with outstanding service and advice. We're not hampered by old technology or thinking. We partner with our clients… providing exceptional business value"
Breaking down the barriers to action
Traditional Surveys are Too Slow
The problem with traditional surveys is that very little seems to change in the organisation as a consequence. This is hugely frustrating for employees who have taken time to give their feedback but see nothing significant happening, and equally frustrating for HR professionals and senior management within the organisation. The whole process is too slow, inefficient and consequently is largely ineffective.
Initial Responses are a Dead End – you need to understand the 'why'
The main reason for this, is that the initial responses from an anonymous survey are a 'dead end'. They may tell you 'what' people think (or thought at the time) but do not tell you why. And until you understand the 'why' you cannot take effective action. E.g. If 10% of employees Strongly Disagree with a statement, you cannot take effective action until you know why they disagreed.
Months of focus groups and team meetings waste a huge amount of time and resource
So traditionally, organisations need months of follow-up discussions, focus groups and team meetings to develop their understanding, but these are non-inclusive, disruptive to employees, not fully representative (we may not have the right people in the room, and very often only the loudest voices are heard) and the whole process takes a huge amount of time and resource.e process takes a huge amount of time and resource.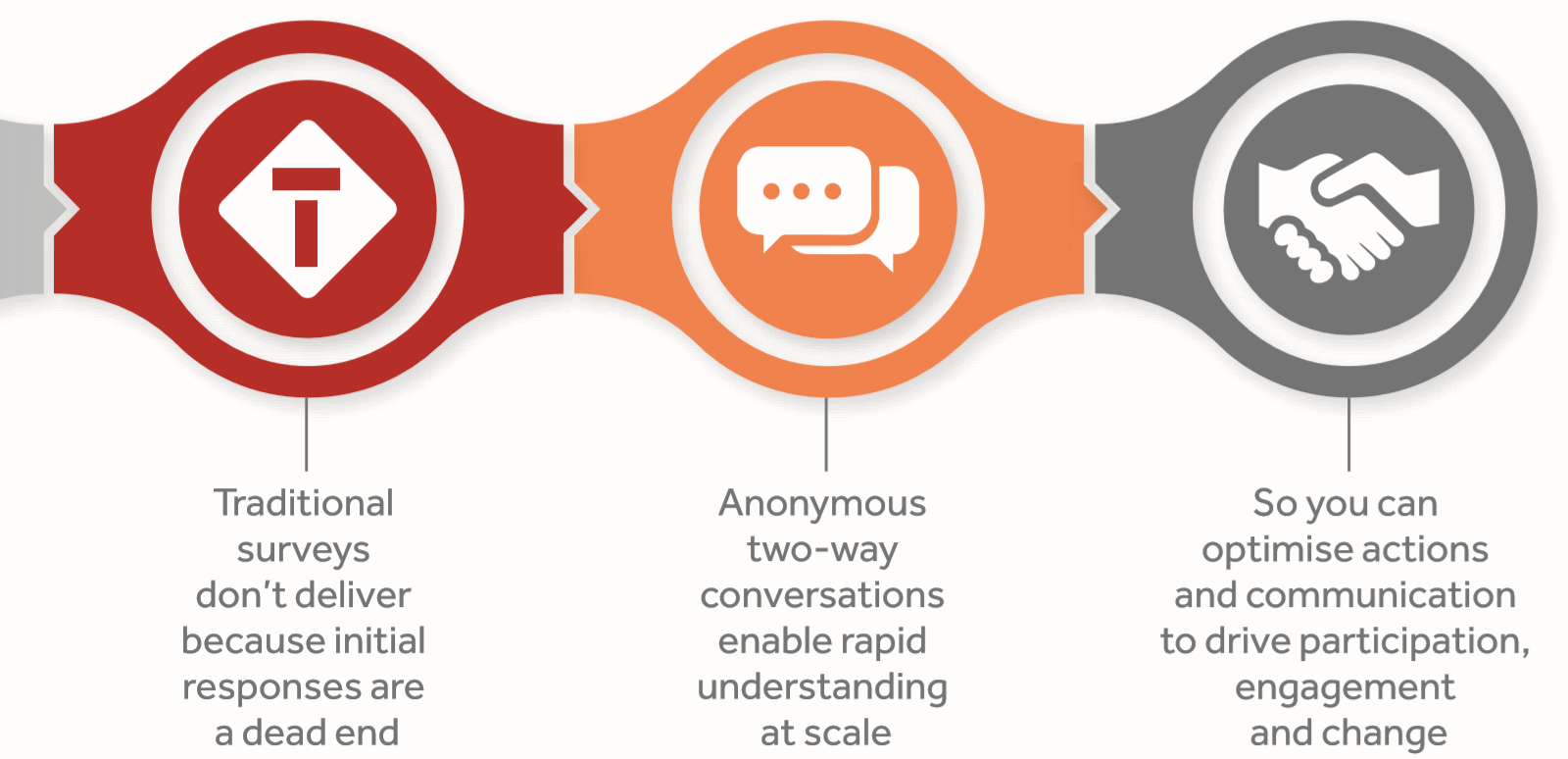 Peachy Mondays is an enterprise employee feedback platform that provides a unique, simple and elegant solution for gathering and actioning employee feedback – much faster than has been possible before.
Testimonial
CUSTOMER REVIEWS
Even though I would say that colleagues generally feel confident in openly sharing opinions, I was surprised at the volume, depth and quality of information we received. The effort to consult with our people was reduced by 100's of hours. I am certain we would not have received all of the data with another method, such as focus groups. While face to face approaches are often desirable for many reasons, there is a danger in paying most attention to the 'loudest' voices.
Helen Archibald
Dundee & Angus College / former Asst Principal
When a survey closes and the results come up, we can act…there and then. Addressing the Millennials' need for speed, on a handheld device, is really engaging
Robert Allan
HR Director, Apex Hotels
The platform is a strategic internal communication tool… Peachy Mondays are proactive, quick and efficient, always available...we are very impressed!
Ilse Verhelst
Internal Communication Manager at Brussels Airlines
So easy to adopt… and ensures your employees feel valued and listened to. And the Hotline on our Intranet produced some unexpected, but positive results and has been a welcome addition to our internal comms strategy.
Shirley Phillips
Head of Organisational Development, Thorntons Law LLP
The follow-on conversations make a huge difference, quickly putting things in perspective… You cannot get that from a flat survey.
Abigail Mawhirt
Head of HR & OD, Dundee & Angus College
Often the best ideas appear to be the simplest. The anonymous follow-up conversation feature is so obvious; to call it a survey is missing the point, it's really a whole new way for HR to communicate and gain real insights for their engagement projects. The employee experience is deceptively simple! We are recommending all our clients look seriously at Peachy Mondays.
Kim Walker
Advance Consultancy / Director
The way Peachy Mondays allows employers to engage in 121 conversations with staff helps to get to the bottom of those difficult issues. And using positive responses in conversations was something I hadn't previously thought of -- the potential use of those conversations has set me thinking! The whole experience with Peachy Mondays has been a great help for me and the team!
Deborah Taggart
Eildon Housing / HR Manager
Get in touch!
Fill out the form and we'll be in touch as soon as possible
Work with Peachy Mondays, because
Happy People Work Better
Whatever your current focus - Employee Engagement, driving Change & Transformation, Diversity & Inclusion, mitigating Reputational Risk, Onboarding or Offboarding - you need to empower your people. Letting them truly understand and take action on employee sentiment fast.
We help organizations go from feedback to action in real time, so they're more people-centric, more agile and positive change can happen fast.
We combine our ground-breaking employee feedback platform, with outstanding service and advice.
Get in touch to find out how we can help you.