Peachy Mondays is a lean, agile HR technology company with a scalable, enterprise employee feedback platform.
Deceptively simple to use and easy to adopt, this innovative SaaS (cloud-based) platform delivers actionable insights in days rather than months – and features integrated analytics, bringing multiple sources of employee feedback together for a holistic view and rapid understanding.
Business applications include strategic alignment, culture change, & internal communication projects; employee engagement, diversity and wellbeing surveys; onboarding, exit, & eNPS pulses, performance management and continuous, ad-hoc feedback.
Core Values
Peachy Mondays' core values include being easy to deal with, protecting employee anonymity, and maximising customer value through strategic alignment. The company's intuitive software keeps things simple; clients can run their own projects, use Peachy Monday's pragmatic support services or select a partner of their choice.
Made in Scotland
Headquartered in Scotland, the company is dedicated to building a world-leading employee feedback platform for enterprise companies. Ease-of-use, ease-of-adoption and data security are paramount in all design decisions. Peachy Mondays' vision is to provide a holistic approach to all employee feedback, offering one familiar interface for employees and one central hub for employers. The company's employee feedback solutions are being used by global organisations in multiple languages around the world.
The Problem We Solve
Peachy Mondays is an enterprise employee feedback platform that provides a unique, simple and elegant solution for gathering and actioning employee feedback – much faster than has been possible before.
Traditional Surveys are Too Slow
The problem with traditional surveys is that very little seems to change in the organisation as a consequence. This is hugely frustrating for employees who have taken time to give their feedback but see nothing significant happening, and equally frustrating for HR professionals and senior management within the organisation. The whole process is too slow, inefficient and consequently is largely ineffective.
Initial Responses are a Dead End – you need to understand the 'why'
The main reason for this, is that the initial responses from an anonymous survey are a 'dead end'. They may tell you 'what' people think (or thought at the time) but do not tell you why. And until you understand the 'why' you cannot take effective action. E.g. If 10% of employees Strongly Disagree with a statement, you cannot take effective action until you know why they disagreed.
Months of focus groups and team meetings waste a huge amount of time and resource
So traditionally, organisations need months of follow-up discussions, focus groups and team meetings to develop their understanding, but these are
non-inclusive,
disruptive to employees,
not fully representative (we may not have the right people in the room, and very often only the loudest voices are heard)
and the whole process takes a huge amount of time and resource.
Our Solution
Peachy Mondays changes this completely with a simple and elegant solution…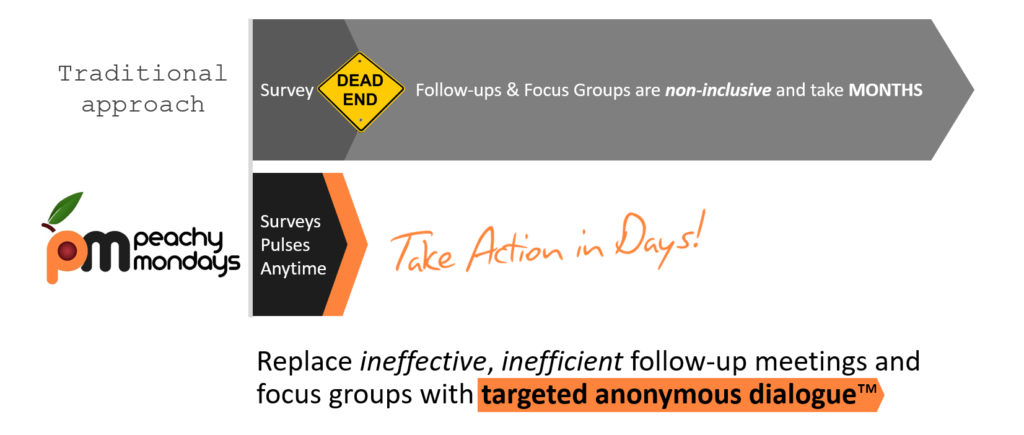 Build and execute effective action plans in days
Peachy Mondays replaces ineffective, inefficient follow-up meetings and focus groups with targeted anonymous dialogue™ – the ability to ask follow-up questions, anonymously, of any group of respondents, letting you truly understand the 'why' behind what people said, so you can build and execute effective action plans in days. The interactive nature of the platform means it actively engages employees, so it's not only a powerful diagnostic and action planning tool, but its use can positively impact on Employee Engagement.
The cost savings and potential benefits of this unique approach are very significant…
Return on Investment
The return on investment (ROI) in Peachy Mondays has several components:
Costs saved by replacing more expensive legacy solutions
Costs saved by reducing time and effort for HR conducting follow-up meetings and focus groups
Productivity gained by avoiding taking employees away from their day jobs for inefficient follow-ups and focus groups
Items 1 to 3 alone usually result in a significant ROI. In addition…
HR are freed up for earlier interventions which have an earlier business impact
Resulting in happier people which leads to reduced churn, avoiding significant staff replacement costs
Overall productivity gains from better engaged, more strategically aligned, better enabled workers
Items 4 to 6 and the broader benefits of the platform (easier-to-use, responsive, fully inclusive, engaged, happier people etc.) are harder to quantify / attribute directly to Peachy Mondays but are often estimated by customers to be hugely significant.