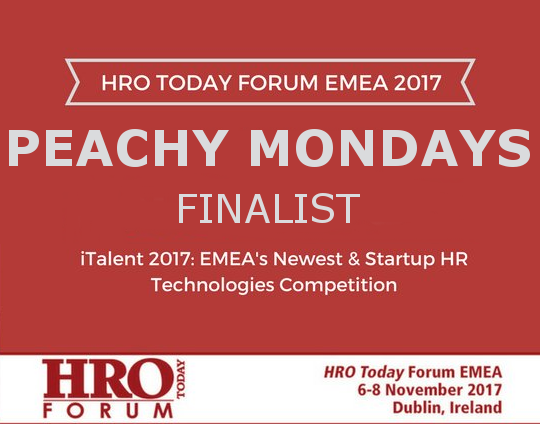 Peachy Mondays selected to participate in European HRO Today competition
Peachy Mondays are pleased to share they've been shortlisted to participate in the HRO Today Forum EMEA iTalent Competition!
Peachy Mondays will have to deliver a five-minute pitch to a live audience of HR technology experts, industry analysts, HR practitioners and technology investors on November 8th. The judging panel will score participants and grant one the accolade of winner of the HRO Today Forum EMEA iTalent Competition.
HRO Today Forum runs the annual iTalent Competition as a celebration of HR, recruitment & talent management technology innovation, inviting companies that are accelerating the industry to apply to the competition and selecting the finalists who go on to compete.
"It's great to be a finalist in the 2017 iTalent competition. It'll be a good opportunity to talk about Peachy Mondays and how we're trying to overcome the shortcomings of traditional dead-end surveys. We enable companies to ask their people what they think (which is where traditional surveys end!) and go on to talk about why they think what they do," said James Anderson, co-founder of Peachy Mondays.

James continued, "Ultimately we help people understand the difference between knowing WHAT people think and knowing WHY they think it."
The iTalent competition 2017 will take place on 8th November in Dublin. Peachy Mondays will be competing alongside: Lumesse, WCN, Beamery and Weave.
Tags In