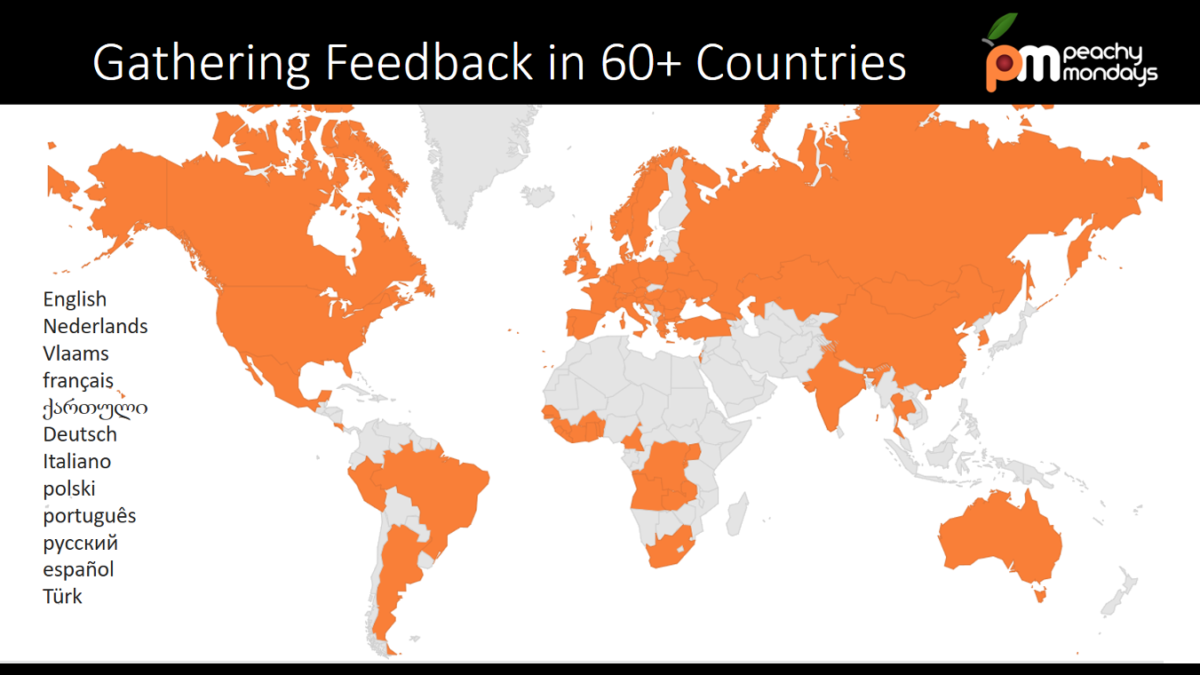 Peachy Mondays live in 68 countries and 12 languages
Press Release
Scotland (31st October 2017) —
Stirlingshire-based start-up Peachy Mondays is now operational in 68 countries across the world.
Peachy Mondays, the employee feedback management solution, has been on a path of mass growth and is being used across the globe, from Canada to Kazakhstan and beyond. Established in 2013, Peachy Mondays helps organisations get to the bottom of any issues, giving employees a safe channel of communication with HR. Peachy Mondays allows organisations to ask, not only what people think (which is where surveys end), but also why they think it, and then make a difference with employees' actionable feedback.
James Anderson, Co-Founder of Peachy Mondays said "This is a very exciting development for Peachy Mondays. No matter where employees are, they should be able to contribute and communicate with their HR and management team, and with our help they can do that confidently and confidentially".
Thanks to a growing list of international client organisations, Peachy Mondays is now operational in 35% of countries around the world. English may be the language of business, but when it comes to personal matters it just isn't enough. Peachy Mondays therefore is available and used in 12 languages so far, with other languages ready in a few days, allowing people to express themselves as they wish.
The full range of countries that Peachy Mondays is live in is: Angola, Argentina, Australia, Austria, Belarus, Belgium, Benin, Brasil, Bulgaria, Burkina Faso, Burundi, Cameroon, Canada, China, Congo, Costa Rica, Croatia, Czech Republic, Denmark, France, Gambia, Georgia, Germany, Ghana, Greece, Guinea, Hungary, India, Ireland, Israel, Italy, Ivory Coast, Kazakhstan, Liberia, Luxembourg, Macao, Macedonia, Malta, Mexico, Moldova, Mongolia, Netherlands, Norway, Peru, Poland , Portugal, Romania, Russia, Rwanda, Senegal, Serbia, Sierra Leone, Singapore, Slovenia, South Africa, South Korea, Spain, Sweden, Switzerland, Thailand, Togo, Turkey, Uganda, Ukraine, United Kingdom, United States, Zambia.
About Peachy Mondays
Peachy Mondays offers a world-leading employee feedback platform for enterprise companies. Simple to use and easy to adopt, this innovative cloud-based platform delivers actionable insights in days rather than months – and features integrated analytics, bringing multiple sources of employee feedback together for a holistic view and rapid understanding. The integrated applications include multi-lingual surveys, pulses, 'always-on' feedback and employee lifecycle apps – all featuring Targeted Anonymous Dialogue™ for follow-up questions to quickly establish root causes, without ineffective focus groups and meetings.
Peachy Mondays employee feedback solution is being used by organisations in multiple languages around the world, including VodafoneZiggo, Brussels Airlines, Herbalife Nutrition, Apex Hotels and many others.
Press Queries
Contact: Faye Holland faye.holland@cofinitive.com Tel: +44 7860 863036.
Note to editors: Trademarks and registered trademarks referenced herein remain the property of their respective owners.
Tags In