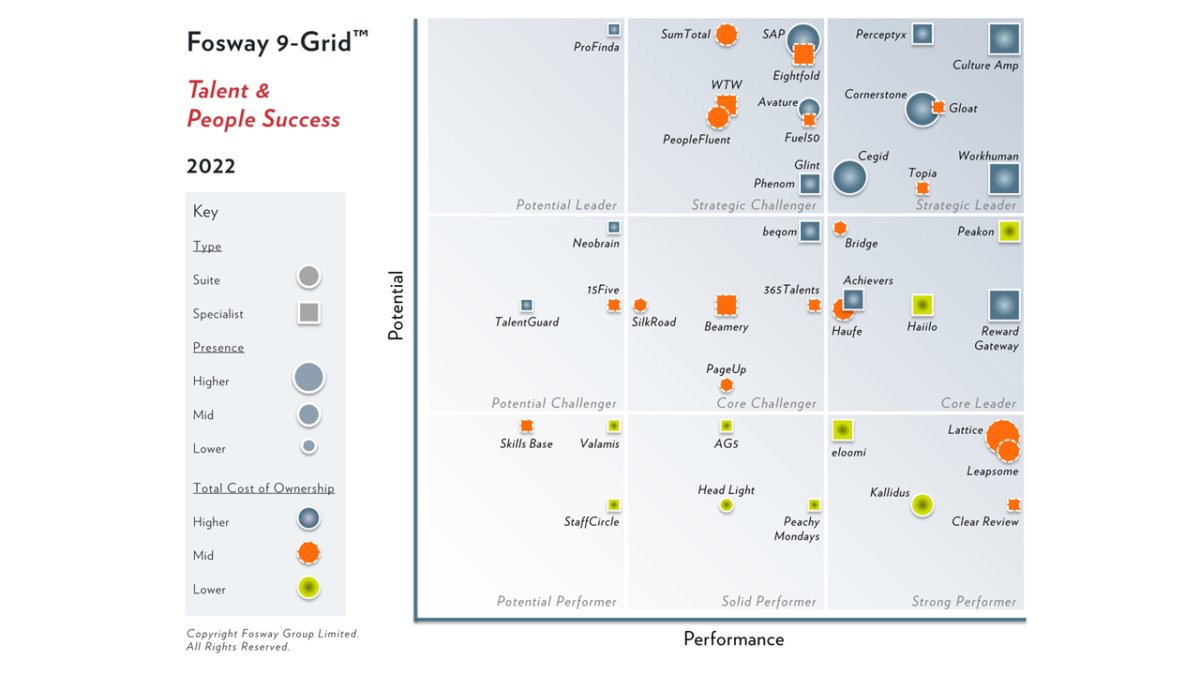 Solid Performer according to Fosway following strong customer advocacy
Did you see the 2022 Fosway 9-Grid™ for Talent & People Success released in October 2022? The team at Peachy Mondays did and we're certainly delighted.
Most people used to historical analyst charts would be forgiven for looking at the chart and wondering why Peachy Mondays is on the x axis. But that's not what the 9-Grid™ is about.
It is a five-dimensional model that looks at nine measures within the same grid and once you realise this you will see some important distinctions for Peachy Mondays.
The first, most important distinction is that we are recognised as a Solid Performer.
This means that Peachy Mondays have sustained market performance and a track record of customer advocacy. We are acknowledged for stability and reliability, and, critically, accessibility – we provide a solution that is easy to use and implement which makes us consistently appealing to customers.
One of the main dimensions in the 9-Grid™ is Total Cost of Ownership (TCO) and Peachy Mondays is rated as having a low TCO. We know that we offer the best service for the right price making us the number one choice for companies that are looking for a holistic approach to all employee feedback.
James Anderson said: "There is an immediate reaction that we need to be higher up on the grid, but that isn't the case. Our market is those companies that want proven benefits, high agility, and a reasonable cost per ownership. We may not be the best known in our market, but we are known for great service and delivering on our clients' needs, and that is exactly where we want to be."
James continued: "We focus on Targeted Anonymous Dialogue™ – we are specialists and will never try to be all things to all clients. That gives us a huge amount of client loyalty and trust, with a significant capacity to extend this to more like-minded organisations."
Having talked to Fosway's Director of Research, David Perring, at the recent UNLEASH event in Paris, he was clear on why Peachy Mondays should be proud of its ongoing inclusion in the Fosway 9-Grid™. He told us, "Inclusion is based strictly on input from corporate buyers. By focusing vendors into specific zones, we make the choice of provider much less one dimensional – avoiding what we like to call 'the top right syndrome'."
So we'll leave the huge incumbents in the top right of the grid – now and in the future. We can offer Peachy Mondays in 68 countries and 12 languages, but we don't have the complex infrastructure of some of the others. We'd much prefer to offer ease of access, speed to market, and targeted anonymous feedback at a price point that means your company can pulse your organisation whenever you choose.
To find out more about how to really listen to your employees, talk to us at Peachy Mondays.
About Fosway Group
Fosway Group is Europe's #1 HR Industry Analyst. The Fosway 9-Grid™ provides a unique assessment of the principal learning and talent supply options available to organizations in EMEA. The analysis is based on extensive independent research and insights from the Fosway's Corporate Research Network of over 250 customer organisations.
Visit the Fosway website at https://www.fosway.com/9-grid/ for more information on Fosway Group's 9-Grid™.
---