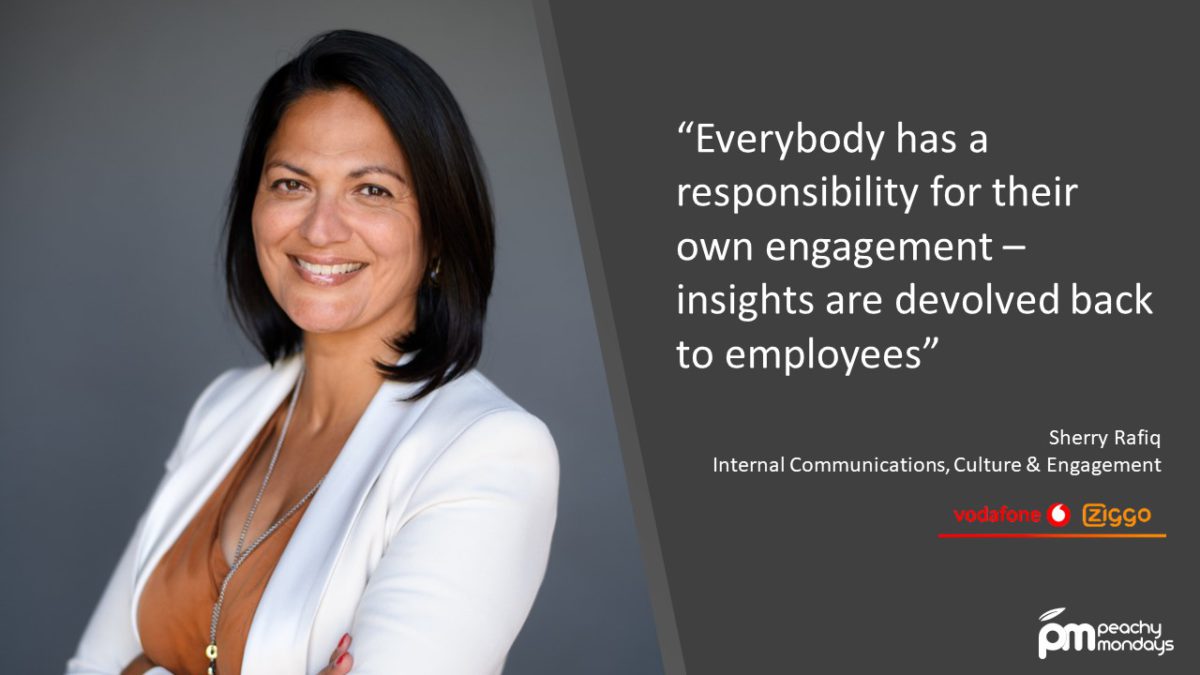 When did engagement become an employer's responsibility and not your own?
Peachy Mondays' client Sherry Rafiq, Director Internal Communications, Culture & Engagement, at VodafoneZiggo, considers "When did engagement become an employer's responsibility and not your own".
Here Sherry shares how VodafoneZiggo's culture and engagement strategy was a lever for their business performance and how their employees' voices shaped that strategy.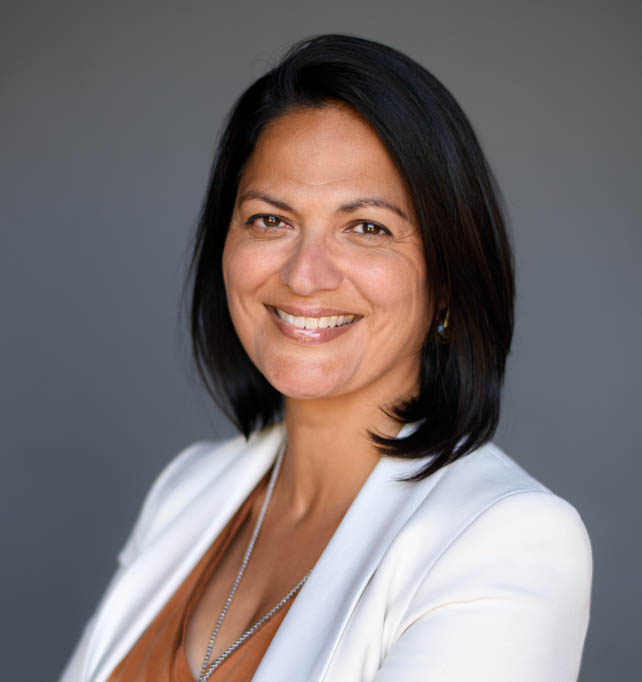 Sherry Rafiq, Director Internal Communications, Culture & Engagement, VodafoneZiggo
Going from measuring engagement to facilitating conversation
In January 2017 a merger between two large telco's consisting of 12,000 people resulted in VodafoneZiggo. In the years that followed, the business was brought back to growth, they gained market share and VodafoneZiggo delivered their synergies (210 million euros) a year ahead of plan. How did they achieve this and what role did their culture play?
For VodafoneZiggo it is important to understand what their employees really need on a continuous basis. So, it was out with the traditional yearly survey and in with the quarterly survey. By having short surveys, with around 25 questions, more frequently it has enabled the company to support their people leaders in building credibility, trust and open a two-way dialogue.
One of the greatest challenges faced by HR professionals at this time is communication and how to effectively engage with employees. It is no longer enough to send out a newsletter as many have stopped reading them. There needs to be a change in communication.
Sherry explained that the key lies in urgency and relevance. At VodafoneZiggo, there are a few principles they stick to in internal communications: 'less is more'; align content, tone and channels to specific groups, and act on what the employees have said. And not just in your communications, but also in your systems and ways of working. Being consistent and congruent has built trust at VodafoneZiggo and people now read what VodafoneZiggo sends out because it perfectly aligns with what employees need. This again stems from the feedback they get through their quarterly surveys and the conversations that follow in the teams. Four times a year, VodafoneZiggo will see what is relevant at that moment in time and alongside Peachy Mondays will put in other variable questions that they want to get more feedback on. And what they have found particularly helpful is the ability to send out anonymous, follow-up questions to certain groups of people to understand what's going on in more detail. People feel safe to be honest and that allows VodafoneZiggo to target specific actions to those specific groups.
"Everybody has a responsibility for their own engagement – insights are devolved back to employees."
Empowering managers
Managers have a huge impact on employees' engagement. The number one source that people will indicate as a source of information is their manager. The Peachy Mondays platform has empowered and enabled VodafoneZiggo managers to have the right conversations with people and find out what their team needs, as well as provide recommendations of actions that can be taken.
"Empowering managers has resulted in a direct increase in employee engagement"
At the start of the joint venture there was a reasonable manager index but this has now risen to 83 which tells VodafoneZiggo that the things they are doing based on the survey results and other data points is working because the employees have more confidence, faith and trust.
The importance of employee ownership
So what can we learn from how VodafoneZiggo deals with requests from employees that cannot be met, such as working a four-day week, or a salary increase.
Sherry shared that it was essential for them to establish what she calls an "adult to adult relationship". She found what worked was to have a serious and sincere conversation that created awareness and understanding about how things work. But it is also valuable to let employees come up with their own ideas. While they may not be able to have the salary increase they are looking for, what other options are there? It opens other conversations around learning development or additional holiday. But it all comes back to establishing trust and credibility as an employer rather than just getting feedback. As James pointed out "employees don't get survey fatigue, they get lack of action fatigue".
A common theme among HR professionals is that they felt if employees didn't get what they wanted they would go elsewhere. It is important to take a holistic approach as this reaction from an employee as it will not have stemmed from just one thing. For Sherry it is important to accept that it is fine not to have those people in your organisation – even if that is still considered a bold opinion to have. If this conversation results in a loss it is vital to go back to the manager and see how the whole process was managed up until the employee left. Have they had their quarterly conversations and reflections? With the Peachy Mondays platform, the whole lifecycle can be measured at 30, 60, 90 days so there is a record of how they were feeling and it is easy to see if they were always disengaged.
"We can measure the full lifecycle of each employee"

"Our people have seen that we act on what they say/need"
When people aren't at work, they are taking care of themselves, their families, and their wellbeing at home. This changes as soon as they get to the workplace, and they stop taking ownership of their own happiness and instead look to their bosses. This is not a very adult to adult relationship, everyone has the responsibility for their own engagement. So, in conversation with Peachy Mondays, VodafoneZiggo chose to give people insight into their own responses. Quite often with other platforms it will be several weeks before you see survey results. But with the Peachy Mondays platform employees can login and see their scores immediately. This has allowed them to better reflect on how and why they were feeling a certain way and set quarterly goals in terms of culture, behaviour, and engagement.
"We found a partner we can build our culture and engagement strategy with"
To find out more about the benefits of Peachy Mondays for your organisation please get in touch today.
If you've found this article helpful, please sign up to our newsletter to stay informed of the latest insights from Peachy Mondays.