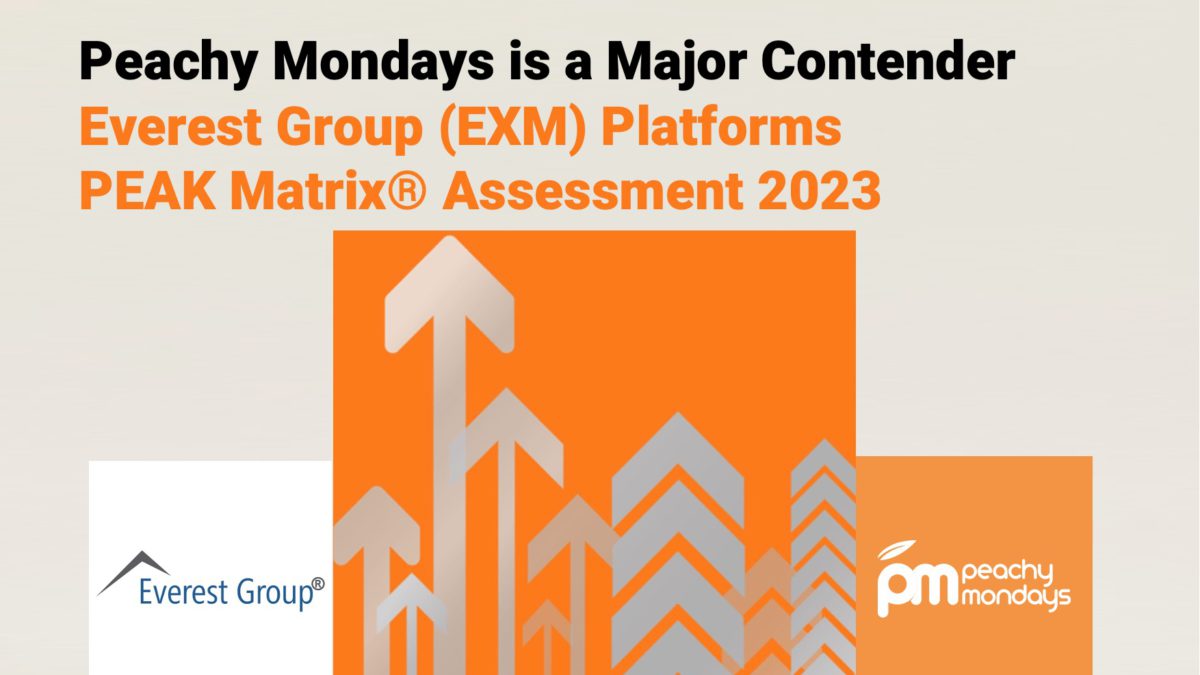 Peachy Mondays a Major Contender – Everest Group (EXM) Platforms PEAK Matrix® Assessment 2023
London Date: 29 August 2023 – Everest Group published their Employee Experience Management (EXM) Platforms – PEAK Matrix® Assessment 2023, naming Peachy Mondays as a Major Contender.
Employee Experience Management (EXM) platforms assist enterprise senior leaders, HR professionals, and team managers in measuring employee experience and providing them with the tools to act upon data-generated insights quickly.
Peachy Mondays was featured due to the company's single-minded focus on serving this specialist market for employee listening, and for ease-of-use, product innovation and customer feedback in Everest Group interviews. The Peachy Mondays' platform supports anonymous two-way conversations (Targeted Anonymous Dialogue™), to help leaders quickly uncover root causes across all survey types; including ad-hoc polls, pulses, annual surveys and employee lifecycle surveys.
Peachy Mondays' CEO James Anderson said today, "Everest Group's recognition of Peachy Mondays as a Major Contender in the EXM space is a testament to our vision and the importance we place on our client relationships. Our mission is to help organisations listen better to their employees and act faster to improve the employee experience. Because, as we always say – happy people work better.
"Our biggest learning over the last 10 years is that the faster you act on feedback, the more you'll improve the employee experience, which translates into higher productivity, performance and ultimately, customer satisfaction."
Download a preview of the report and view the EXM Peak Matrix here
About the PEAK Matrix®
The Everest Group PEAK Matrix® is a proprietary framework for assessing the relative market success and overall capability of service providers based on Performance, Experiences, Ability and Knowledge. Each service provider is comparatively assessed on two dimensions: market success and delivery capabilities. Market success is measured by revenue, number of clients and year-over-year growth. Delivery capability is measured by scale of operations, scope, technology and innovation, delivery footprint and buyer satisfaction. The resulting matrix categorises service providers as Leaders, Major Contenders, and Aspirants. Companies that demonstrate strong upward movement in successive reports are recognised as Star Performers.
About Peachy Mondays:
Peachy Mondays is a continuous employee listening and people analytics platform that helps improve employee engagement, experience of work and drive productivity.
Customers choose Peachy Mondays to connect better and understand employees' feelings, gain predictive insight into behaviour and provide KPI's for engagement and transformation initiatives.
Founded in Scotland in 2012, Peachy Mondays clients include Vodafone-Ziggo, Brussels Airlines, Eurowings, Brightwell, Dundee and Angus College, Pobl, and many others. For more information, visit our website at www.peachymondays.com.
Press Contact:
Mark Gibson
Director of Sales and Marketing
mark.gibson@peachymondays.com
+447312984542
Tags In