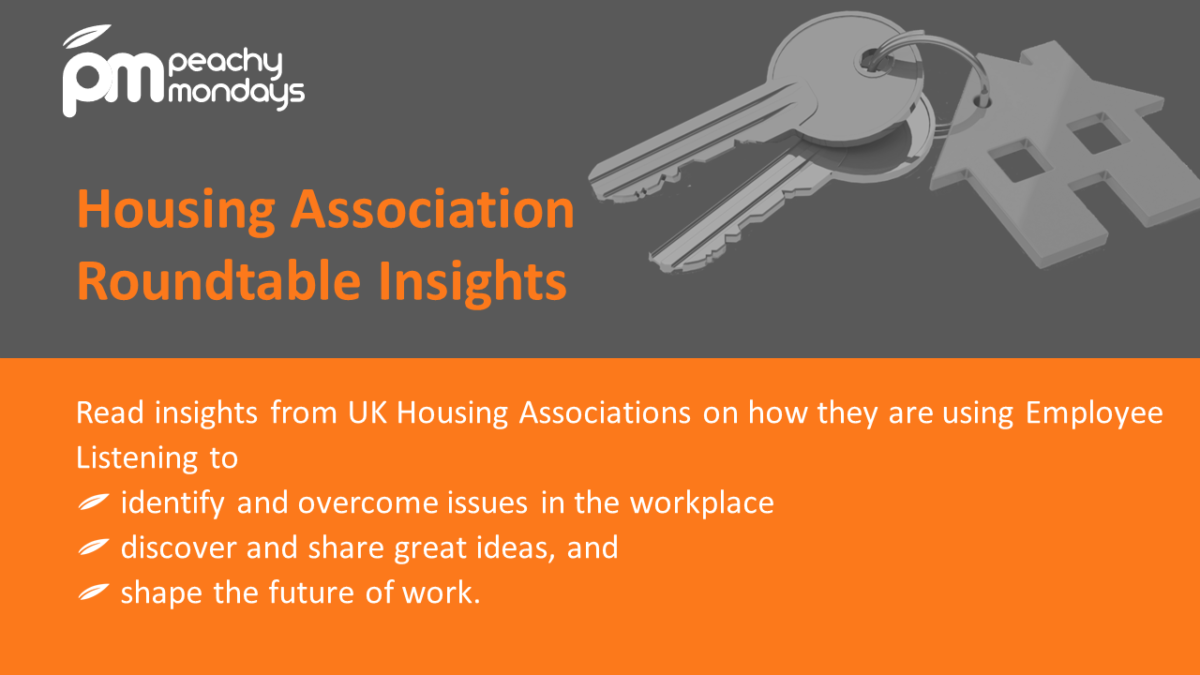 Housing Association Roundtable Insights
Last month, Peachy Mondays hosted our first Housing Association Roundtable, bringing together senior professionals from a wide range of housing providers across the UK. The Roundtable was an opportunity to share the challenges that the sector has faced as well as explore the contribution that employee listening can make to:
identifying and overcoming issues in the workplace
discovering and sharing great ideas and
shaping the future of work.
Identifying and overcoming issues in the workplace
At the beginning of the pandemic, the greatest issues faced by roundtable attendees were dealing with the volume of health and safety guidance they were receiving – which was often confusing and conflicting – and getting the right Personal Protection Equipment (PPE) to the people who needed it. Roundtable attendees have successfully used employee feedback to identify and address issues with organisational communication and PPE supplies, keeping staff and residents safe.
Working from home requires the right furniture, technology, and connectivity. Several attendees have given employees homeworking allowances that they can use to upgrade their home broadband or purchase items such as desks. Others have allowed employees to visit their offices to obtain the equipment they need. As well as having the right tools, employees need to know how to use them. IT support and training has been important, particularly for nonoffice-based employee groups.
As lockdown continued, roundtable attendees detected a growing need to maintain a sense of belonging and connection across their organisations. Services were being delivered safely but employees were increasingly missing the social aspects of work. Attendees shared a wide – and creative – range of ideas to re-connect teams and create culture. From morning online huddles to virtual coffee mornings, Burns suppers, birthday parties, baby showers, scavenger hunts and quizzes. Some attendees have also shown they care by sending employees gift vouchers and gift packages including tea bags, biscuits, mugs and even bespoke designer socks!
Twelve months on, the challenge of communicating with hard-to-reach employees and relief workers remains, but attendees are using personal devices, mobile, instant messaging and social media to maintain contact and listen to employees.
There is also a sense that having worked for the last 12 months from home in back-to-back zoom meetings or on the frontline in full PPE, there is a growing sense of frustration and fatigue that is impacting wellbeing and heightening interpersonal tensions. Many employees can't see the end in sight. We discussed the importance of maintaining boundaries and signposting available wellbeing assistance and support rather than managers performing the role of counsellors.
Balancing flexibility with the needs of all is also a challenge. Some employees who have caring responsibilities are home schooling are working early in the morning and later in the day, and colleagues who are working 9-5 can feel the pressure to extend their working days to be available.
Another practical challenge that attendees continue to face is how to deliver virtual training that is inherently physical in nature for example, manual handling.
Employee listening is also being used to learn more about employee attitudes towards and understanding of vaccinations and the way forward out of the pandemic.
Discovering and sharing great ideas
As well as unblocking problems, roundtable attendees shared positive stories about identifying and sharing best practice. We know from employee feedback that having a supportive manager has made a big difference to the way they have felt at work over the last 12 months. Like many organisations, one round table member shared concerns that the capability of their managers varies. They used employee listening to identify employees who were really positive about the support they received from their managers. Using anonymous follow up conversations, they asked these employees what their managers did to make them feel that way. They used their feedback to collate a list of best practice hints and tips that they could share with managers across their organisation. The result? Manager effectiveness increased across all of their sites.
One attendee has used employee listening to understand more about what their colleagues are most looking forward to in the future. They used the curated feedback and stories to publish good news communications and build optimism towards the future.
Some of our clients are also introducing 45- and 20-minute meetings to ensure that employees have time for breaks in between meetings. Email signatures can also be used to explain that colleagues are currently working flexibly and there is no expectation that their email will receive a response outside of normal working hours.
Shaping the future of work
Roundtable attendees are using employee listening to understand sentiment towards ways of working in the future. Having been forced to work from home for much of last year, employee listening is being used to understand attitudes to hybrid ways of working in the future.
Where practical, roundtable attendees said that the majority of employees have indicated that they would like to work from home more often in the future – and that certainly resonates across our client base. Employees report that they have been more productive and have enjoyed a better work life balance during lock down. Virtual meetings with clients and colleagues have also reduced commuting times.
Of course, not every role is suited to remote working. Equally, some employees have really struggled with home working – they've missed the social aspect of work and the support of their colleagues. Others have found it difficult to switch off and distinguish between work and home life. Employee listening has been used to identify and reach out to those colleagues who need more support – prioritising their return to the office and/or putting employee assistance programmes in place.
As ways of working are changing, the purpose and footprint of office spaces are changing. Roundtable attendees are using employee listening to inform the redesign. Office spaces are likely to become hubs that offer team meeting, training and touch down spaces as well as welfare facilities – kitchens, toilets and showers – for employees that work in the community. Many employees too have shared the need for access to office facilities such as confidential waste disposal, printing and photocopying.
In the back office, many customer interactions have moved online and are likely to stay that way, but where face-to-face client contact is still desirable/required, they are likely to be staffed on a rota basis, meaning there will be less people in the office at any given time.
Next Steps
Our Roundtable attendees will continue to use employee listening to manage their exit from the pandemic and shape the future of work. They have also agreed to keep in touch to build a housing themed community of practice which we hope to grow. The community of practice will be a safe place to share challenges and insights and build best practice in employee listening.
If you want to join our Housing community of practice, or learn more about how Peachy Mondays can help you to listen better and act faster to drive engagement and effectiveness in your organisation, please contact us using our online form.