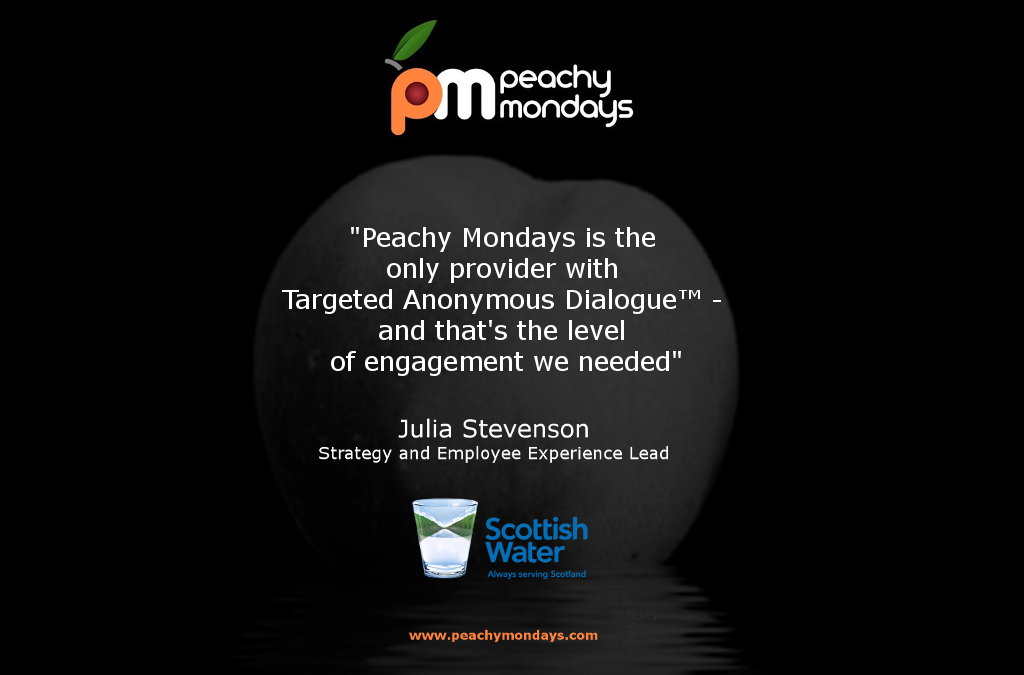 Creating a positive experience for Scottish Water
Scottish Water was initially introduced to Peachy Mondays as part of the Business Insider Scotland's Best Employer 2015 awards. As a finalist, part of their assessment criteria was to run an incremental survey using the Peachy Mondays employee engagement platform, and Scottish Water were impressed.
So much so that in 2017, when planning to launch their own survey on change readiness, they knew they could rely on Peachy Mondays not only for their flexibility, responsiveness and ability to mobilise the survey quickly, but also for their unique ability to offer Targeted Anonymous Dialogue™, where 'follow up' conversations can be held with respondents while still maintaining their anonymity.
Scottish Water has recently worked with Peachy Mondays to deliver a Safety, Health and Wellbeing Survey across 4,600 employees and contingent workers and also an all-employee engagement survey called 'Your Voice'. Scottish Water's Strategy and Employee Experience Lead, Julia Stevenson, said
We have found Peachy Mondays to be very receptive and responsive to our needs, and the survey platform has given us new insights and received positive feedback from our employees
For more information on how you can develop a positive experience for your employees, using our responsive and cost effective tool, contact our team@peachymondays.com.